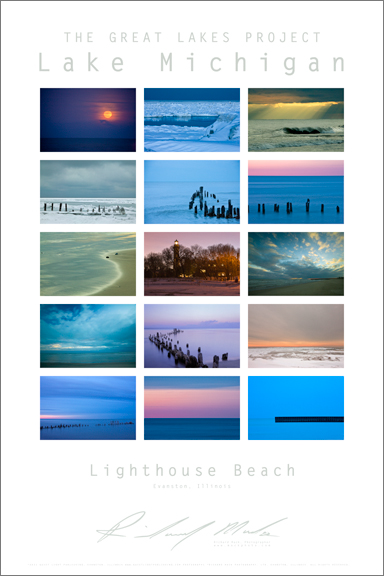 If it is summer in Evanston it means hitting the beach! And to commemorate this you can now get my new poster of 15 images from Lighthouse Beach. These images were done over a number of years as part of the Great Lakes Project and show's the moods of all four seasons.
As part of this project I have spent a lot of time at Lighthouse Beach for many reasons. One, I live about a mile away and have been going to this beach since I was a kid. So for me there is a lot of emotional connection to this beach. It is where I have played as a kid, played with my kids and spent many hours alone looking out over the water. And for the last 30+ years have seen it through a photographer's eye. The old pier, just to the north of the beach has provided many opportunities for images. Sometimes I am there at dusk alone, other times I might join another photographer or two shooting there as well. It has become a popular spot.
If you've been following this blog you know I have been trying to get a shot of the full moonrise with the pier in the frame. To date it has eluded me. Someday I shall prevail, I hope, and get the shot – which is so perfect in my head. Stay tuned.
In the meantime if you are a fan of the beaches around Chicago, and especially in Evanston or even Lighthouse Beach then you need this poster! Purchase it online at www.quietlightpublishing.com for only $45.00! The poster is 24"x36" and is printed on archival paper – the same as my fine art prints.
Enjoy!
Richard Mack