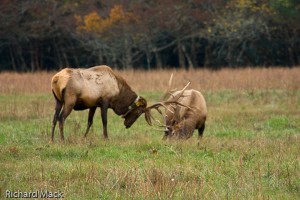 I recently read an article by George Lepp in Outdoor Photographer which reminded me of a few things I talk about in the Quiet Light Workshops. With the advent of the digital world and especially today's cameras with high ISO settings photographers – and especially landscape photographers – need to remember to think outside of their usual comfort zone. Today's camera ISO's, or as film folks think, ASA, can now go to an incredible 25,600! Remember when ASA 800 seemed on the edge? As landscape photographers we are used to working at the best possible ISO of 50-100 for the finest in detail. Yet in digital the loss with higher ISO's is minimal. Yes, there will be some additional noise but nothing which can't be overcome with noise reduction software.
When shooting my last book Great Smoky Mountains National Park: Thirty Years of American Landscapes I had the need to extend the ISO of my camera's (Canon 1Ds Mark III) highest setting to 3200 when I was shooting the elk in Cataloochee. It was nearly dark when the elk began to actually begin their rut and clash their heads together. Since this is what I had come for I had no choice. I confess, as I was shooting them I was fairly sure I would need to come back, so imagine my surprise when later that night the images looked great in Photoshop!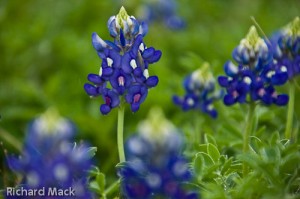 Last week I was in Texas and once again wanted to play with expanded ISO's. This time not because I was forced to but to see how it would help you be more creative. I was visiting my aunt and uncle's ranch Rookwood near Brenham. Aunt Char is a great photographer herself and was excited to show me around. The wildflowers were just beginning to come out. I found that by using the higher ISO's I could handhold when necessary to get a better angle. I also played with the depth of field so I could show workshop participants directly the differences in looks when you step out of the landscape photographer mode and use a shallow depth of field to highlight an area of an image. The Indian Paint Brush and Bluebonnets in their fields became my subjects for this study. The fact is by changing the way we work we open up endless possibilities to how we see.
Sometimes we find ourselves doing things the way we have always done them – low ISO and stop down all the way to make sure that image is sharp all the way through. And sometimes it is best to break that "rule" of landscape photography. This may seem a very simple idea, but sometimes we need to be reminded to step outside our comfort zone and see the world in a different way.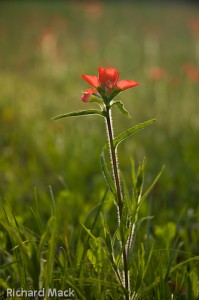 If you would like to see more images from Texas you can use this link: www.mackphoto.com/blog/Texas/    
To see the Great Smoky Mountains National Park book go to www.quietlightpublishing.com
If you would like more information on my workshops please visit www.quietlightworkshops.com
Go on and get out of your zone! Experiment!
Peace,
Richard