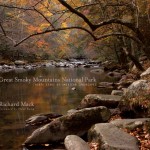 On Sunday while I was walking along the shore of Lake Michigan I received an email notifying me that my book Great Smoky Mountains National Park: Thirty Years of American Landscapes had won the Silver Medal in the Art, Photography & Coffee Table books category of the Eric Hoffer Book Awards. It is an honor to have received this accolade from the industry. 
In the review of the book US Review of Books said the following: 
"The US Review of Books: The Eric Hoffer Award."
Great Smoky Mountain National Park: Thirty Years of American Landscapes, Richard Mack, Quiet Light Publishing – Photographer Richard Mack doesn't let words get in the way of his sumptuous series of pictures of the Great Smoky Mountain National Park. For thirty years, Mack has roamed and captured images of this National Park beauty. The book is divided into the major park sections (i.e. Cades Cove, Oconaluftee, Roaring Fork etc.), exploring the natural subdivisions within each. Occasionally the filters are set for subtle effect, but mostly you will find icy clear depictions of the majesty wrought from this mountainous pine and deciduous forest in every season. It is the kind of coffee table book that draws you in and has you flipping through every page.
 You can view more of the award winners online at www.hofferaward.com.                
It's an honor to have been considered for this award and even more humbling to have been the first runner up for this award. More awards will be awarded in New York at BookExpo later in May so stay tuned to see how we fair in those awards!
If you haven't seen the book you can Look Inside the Book at Quiet Light Publishing and purchase signed copies! You can also purchase signed copies of the 2007 Eric Hoffer Book Award Gold Medalist winner The Lewis & Clark Trail: American Landscapes!

Peace,
Richard