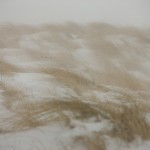 Many people think a blizzard is something to be avoided, not me! I loved the idea of Chicago being pounded by snow – but then again I had some ulterior motives. I had just been asked by an advertising agency if I had any winter shots in a snowstorm. I've also been working on my Great Lakes book project so this would make some great material for that I assumed. I prepared the cameras, got out layers of clothes and geared up for the elements.
I ventured out in the afternoon on Tuesday as the storm was in full swing. I went first to my favorite place nearby – Lighthouse beach here in Evanston, but found nothing striking my fancy this time. I wandered up to Gilson Park, which has sand dunes and trees bordering the beach. I thought these would make good foreground for Lake Michigan lying beyond. Except you couldn't see the lake most of the time! As the storm cranked up it had sustained winds of 50 MPH with gusts over 70 MPH. This meant that in addition to the snow hitting you full on as it blew horizontally along, the wind was so strong it was picking up water drops from the surface of the lake, freezing them and blowing them into you like sharp little razors. It hurt to be out there!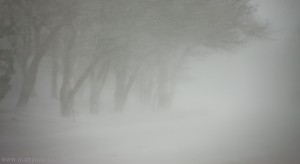 Now we all know that to see the snowflakes, you need a dark background to show them off, after all white on white doesn't work. Even when I placed tree trunks in the foreground, or the grasses, it was hard to pickup the snow in the air. I tried both slow exposures and fast ones (at 1/250 second). A little luck, but the best results to me were the blowing snow which appear as clouds of fog coming off the tops of the dunes and those when the lake closes in almost all the way.
Not your typical Chicago Blizzard shots of stranded cars – but a look at what the lake has to offer on such an exciting day!
To see more images from this shoot use this link: http://www.mackphoto.com/blog/LakeMichiganWinterStorm/index.html
And to see some shots from past years you can check these out:
Winter 2010: http://www.mackphoto.com/blog/LakeMichiganWinter/index.html
Winter 2008: http://www.mackphoto.com/blog/LighthouseBeachWinter/index.htm
Cheers,
Richard Mack